Verst Logistics has been servicing logistics customers since 1966, with a number of partnerships lasting 20+ years. With that in mind, and given our collaborative history with several major brands, this blog post covers the recent trends in outsourcing versus insourcing warehousing. We value our partnerships and believe it is our responsibility to provide support and assistance to our partners when considering strategic logistics options.
Warehousing and distribution strategy is an increasingly critical aspect of business. Choosing whether to insource or outsource will play a key role in your growth potential.
When developing your strategy, a 3PL warehouse provider gives you access to an entire spectrum of supply chain & logistics expertise. For small startup companies looking to establish a presence in a strategic market or large companies looking to seize opportunity in new areas, and any others in between, third party logistics providers give options that allow businesses to scale efficiently.
Does it make sense for your business to outsource? Below in an in-depth analysis as to why you should or should not outsource some, if not all, of your distribution to a 3PL provider.
Why Should Your Company Outsource
Cost reduction is one of the main reasons why many organizations decide to outsource in today's society, but there has been a shift in the reasons, and they widely vary, even beyond dollar signs. This can be attributed not only to the degree of complexity and velocity of the company's supply chain, but the expectations and demand of the consumer as well.
Top 5 Reasons Why Your Company Should Outsource
1. Outsourcing Gives You the Flexibility You Need to Scale Profitably
When using a 3PL distribution provider, this move will allow the flexibility for you to set up and scale your distribution model as business demands shift. In doing so, you can more easily grow into new markets that allow you to service new and diverse customer bases.
Here are three examples of flexibility from outsourcing:
Flexibility in the supply chain: an outsourced warehousing partner will understand how to synchronize inventory across all levels of the supply chain. Leveraging the eCommerce fulfillment and omni-channel distribution expertise of a 3PL will reduce inventory carrying cost by maintaining appropriate levels of stock, and position product optimally to serve customers – wherever they choose to purchase.
Flexibility in the transportation network: a properly-aligned distribution network allows shippers to overcome shifts and trends in transportation, be it increased challenges with driver capacity, port & labor issues, or volatility of fuel prices.
Flexibility within the four walls of a warehouse: a 3PL provider will know how to continually streamline operational processes to account for inventory fluctuations due to consumer demand shifts, changing distribution channels, or seasonality. Continuous improvement requires continuous attention.
4. A 3PL Adds Supply Chain Value
A 3PL will provide a variety of value-added activities, such as:
Kitting, Repackaging, Assembly etc. – These are examples of specialized services 3PL providers use to support different sales/retail channels. For example, "two-for-one" products commonly found at retailers are this type of value-added service. When choosing to outsource to a 3PL warehouse provider, you are able to package individual units of inventory into this type of promotional product offering. However, all supply chains are different, but a 3PL provider implements value-added services like kitting/packaging at the last point in the supply chain before the product goes to market while dramatically reducing inventory and transportation costs.
Returns Processing, Reverse Logistics, Inspection – These value-added services are common in eCommerce fulfillment. Managing the logistics of a return, as well as its eventual return to stock, is an important part of any supply chain. A 3PL provider will handle the processing of the return, ensuring the customer receives a replacement item or is adequately refunded. Also, the 3PL provider will ensure the product is properly inspected and potentially returned to stock for sale, enters into a secondary distribution outlet channel or is recycled appropriately.
Cross-Docking, Order Consolidation – These smart practices are critical for retailers servicing stores or larger distribution centers in their network. Cross-docking is value-added process in which a 3PL provider can receive a product and quickly divert it to the next point of distribution or fulfill retail channel orders, avoiding the need for it to be put in storage. Consolidation, which is a similar tactic a 3PL provider will use to reduce costs and labor, is a process of combining multiple small shipments into a larger load to reduce shipping costs.
3. Outsourcing Allows Access to Industry Expertise
Leveraging a third-party logistics provider for their operational process expertise, and know-how within your industry are strategic advantages realized by outsourcing. Outsourcing reduces your costs, drives up your efficiency and allows you to focus on your core business, as a 3PL provider will:
Know the ins & outs of product flows for a given industry and understand the requirements of various partners in the supply chain (e.g. offshore manufacturers, distributors, big box retailers).

Understand how to optimize processes within the four walls of a warehouse to effectively serve b2b & b2c distribution channels.

Continuously improve process to drive efficiency, productivity and cost improvement on an on-going basis.
2. 3PLs Offer Innovative and Impactful Solutions
Warehouse Management Systems (WMS), Transportation Management Systems (TMS), Radio Frequency Identification (RFID) and Electronic Data Interchange (EDI) integration capabilities are all technology solutions that add supply chain visibility & connectivity, create efficiency and streamline supply chain processes. Large distributors often provide barriers to small or less sophisticated companies due to data and information transmission requirements. The big box retailers of the world no longer have to be off-limits for companies of any size.
Powerful WMS and TMS capabilities can add huge value to your company. These systems allow for real-time access to detailed inventory information and allow you to forecast upcoming trends. Leveraging a 3PL that has strong technological capabilities allows you to leverage their systems and expertise to improve logistical processes. Taking it to the next level – integrating supply chain information into your own business systems provides larger scale insights to how your business is ultimately serving your customer.
1. Realize Significant Cost Savings
Cost savings can be realized in many ways, however the most common of which involves process and people.
PROCESS:
Improved productivity – From labor optimization, process design, automation of processes etc.

Increased efficiency – removal of waste in an operation.

Optimization of shipping & transportation: choosing the right mode & service level to service customers with the right balance of cost/service level.
PEOPLE:
Improved quality of labor: creating the right culture in the warehouse drives improvements in productivity, efficiency and reduces turnover.

Safety: paying attention to safety reduces incidents and creates a better workplace environment for employees.
A 3PL provider gives you ability to easily forecast the landed cost of each of your products and account for this in your sales process. This is real example of how a 3PL provides cost savings.
A fully integrated 3PL warehousing and distribution strategy allows you to utilize an expert to manage your supply chain. A 3PL provider should be able to provide a road map to how you can most effectively build and maintain your supply chain. The provider should be rooted in providing flexible solutions that fit your strategy, technology that allows you to scale efficiently, and process development to drive efficiency and cost reduction, and have the fiscal sense to help you maximize your transportation dollar. Contact us to learn more about options for outsourcing warehousing and distribution.
Benefits/Drawbacks of Outsourcing
The benefits and drawbacks of outsourcing are directly related to the relationship between the company and its 3PL logistics provider. Successful outsourcing arrangements are typically well defined, planned and executed when there is a level of shared trust, collaboration and integration between both parties.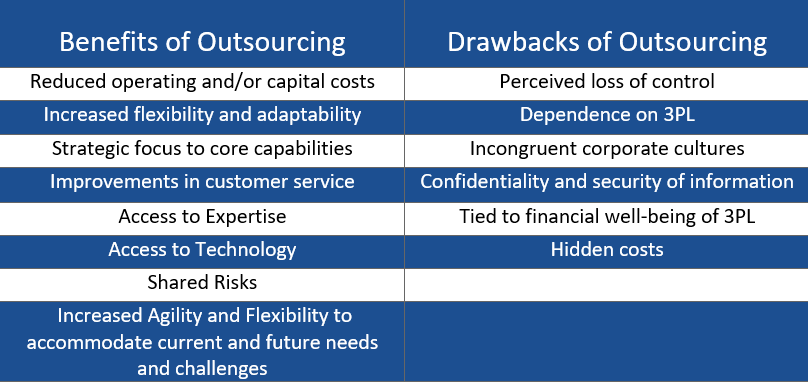 Reasons Why Companies Chose To Insource
While the general trend among companies is to increase their use of outsourced logistics services, there are also companies who choose not to outsource and maintain control of their supply chains internally (insourcing). Typically, companies choosing to insource have very complex supply chains with significant regulatory, political and customer challenges. While less prevalent, companies choosing to insource typically do so for the following reasons:
Logistics is already considered a core competency

In-house expertise exceeds the capabilities of most 3PL's

Logistics functions are too complex to consider outsourcing

We know our business much better than a 3PL ever could

Too difficult to integrate information systems and flows

A belief that cost reductions would not be realized through outsourcing

Political climate where the benefits of outsourcing are outweighed by the negative publicity and/or ill-will derived from an outsourcing decision.
Benefits/Drawbacks of Outsourcing