A few years ago, the Harvard Business Review ran a story about DIY accidents, observing that, "Trouble tends to come toward the end of jobs."
Trouble also tends to come near the end of a workday, especially if that workday takes place in a warehouse. And it's not difficult to see why.
For one thing, the typical DC job is physically demanding.
For another, many DC tasks can be (dare we admit it?) repetitive.
Plus it's not unusual for late afternoons to be much higher-pressure because that's when numerous shipments have to get out the door.
As a result, by the time the final hours of a warehouse shift arrive, most warehouse employees are usually: a) nearing a state of fatigue; b) close to being dehydrated, particularly during hot months like this one; c) "zoning out"; and, d) in a hurry. They're also ready to go home – and quite possibly – thinking more about what they're going to be having for dinner than they are about avoiding that pesky pinch point, looking out for forklifts or lifting a box safely.
It all adds up to the potential for considerably more accidents and injuries. But thankfully it doesn't have to add up to a significant increase in actual accidents or injuries, because with a little extra vigilance – and a lot of additional emphasis on keeping employees attentive – the close of a DC workday can be safer and more productive for all.
That's why you'll see the words "last two hours of a shift" prominently featured on our July 2020 safety calendar. It's our way of reminding warehouse managers to put their best safety foot forward as each warehouse shift draws to a close (and to remind their employees to do the same). It's also why we'd like to share three of our favorite practices for doing exactly that:
1) Instruct supervisors to concentrate approximately 50% of their interactions with personnel on the floor during the final two hours of a shift. It will allow them to spot a lot more possible safety lapses before they happen – and keep everyone much more focused.
2) Practice job rotation. Research shows that people who work on "boring" or repetitive are more likely to get fatigued and/or just put their brains in neutral sooner. Varying workers' tasks, especially as the day progresses, will help reduce some of that risk.
3) Educate employees about "normalization." Like the five factors mentioned earlier in this story, it's a phenomenon that explains why people tend to get more careless and prone to injury as they approach the end of project or workday -- and why they often wind up mentally checking out sooner than they should. In some cases, simply knowing they're at greater risk will go a long way toward keeping them more vigilant.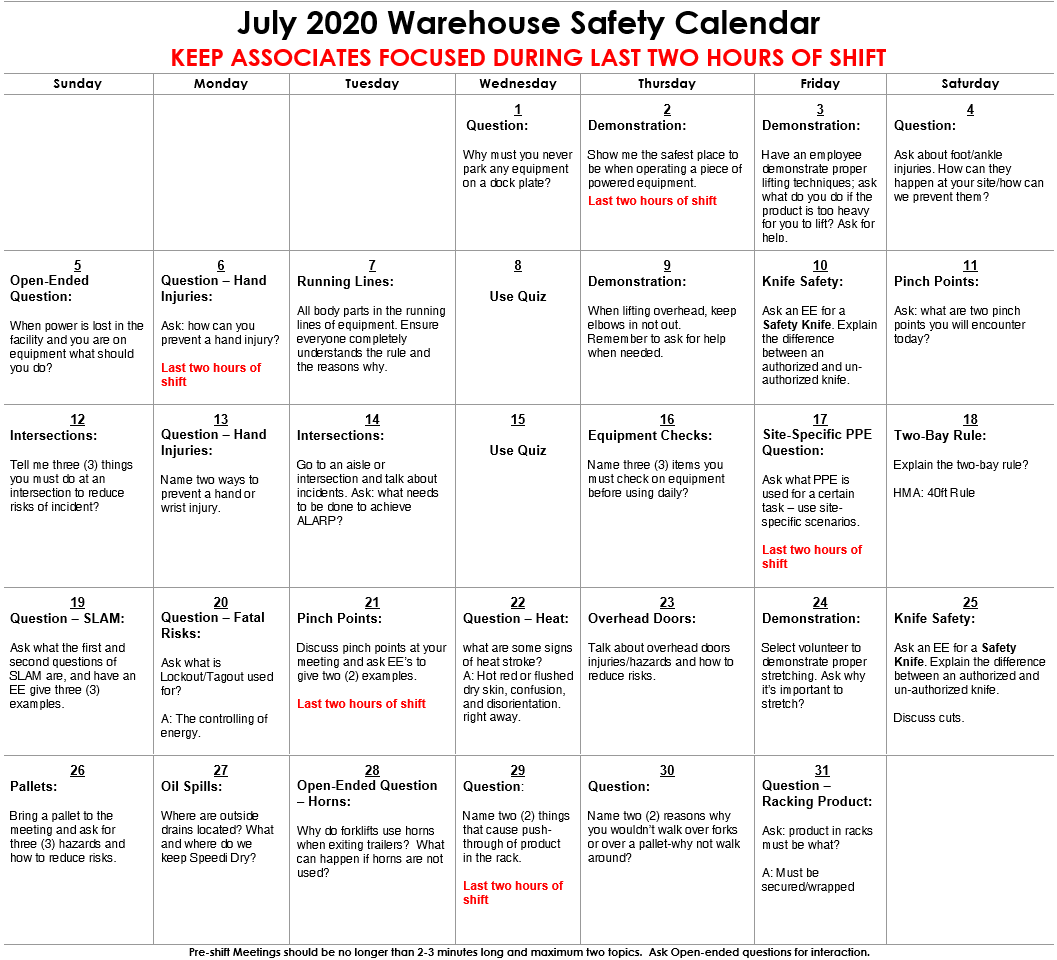 Click here to download the July 2020 Warehouse Safety Calendar
On behalf of all of us at Verst, we hope that you have a safe and successful Independence Day – and an even safer month of workdays at your warehouse.