What type of equipment is best for your shipment? Look over the specifications below to make the most informed decision for your shipping needs.
In the logistics and transportation industry, especially if an individual is starting a new career, people are often overwhelmed by the number of different types and sizes of freight trucks available. One of the first questions they ask is, "Which type of truck is the best transportation option for my shipment?" Given a variety of different factors that will affect the pricing and the type of truck, this blog post will walk you through the different types of equipment options to best solve your logistical needs.
Key Factors in Shipping
Before you begin to look at providers to transport your cargo, you must provide essential details about the freight in order to find the best shipping option. Before you talk to a transportation provider, you must first answer these questions:
What type of cargo are you shipping?

How quickly does your shipment need to arrive?

What is the value of your cargo?

What is the weight and dimensions of your cargo?

Does the cargo need to be palletized?

Does your cargo require any special care such as refrigeration, straps, blankets, etc.?
By figuring out the exact weight and dimensions of your shipment, you will be able to quickly tell what mode of transportation will best suit your business needs. The three types of shipments are:
After figuring out what type of shipment you need, you will next need to consider the type of equipment you will need, which will be discussed in the next section.
Choosing the Right Equipment for Your Shipment
In this section, the three most common trailer types used to transport cargo will be outlined. The majority of freight in the U.S. is transported by these trailers, and depending on your hauling needs, each trailer offers benefits and drawbacks based on your freight specifications.
In order to better help you understand your options, the most common equipment types are listed below and what types of projects they are most utilized.
Flatbed Trailers
Flatbed trailers has an open cargo bed trailer. To make loading and unloading easier on the shipper/receiver, most flatbed trailer beds are completely level. If you are hauling a taller load, some flatbeds are built with drop-deck trailers (see Lowboy trailers below).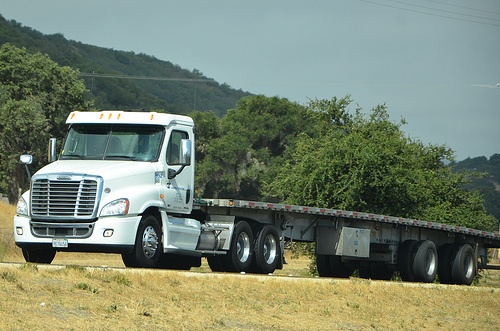 Since flatbed trailers are open on all sides and do not have roof, the flatbed trailer type is an ideal option for bulky and durable freight. These types of trailers are mainly used for hauling construction equipment, cars, mobile homes or building materials. Longer load lengths can utilize flatbed stretch trailers to be quickly and easily loaded or unloaded from the top by a crane or from either side of the trailer. These types of loads would be for trees or pipes.
Refrigerated Trailers
When perishable cargo that is heat-sensitive needs to be transported, these types of trailers called refrigerated trailers, or reefers, are utilized. The internal temperature of the cargo is controlled based on the shipper's requirements. Commodities such as food and pharmaceuticals may require refrigerated equipment for safe transport to their destination to prevent any kind of spoiling.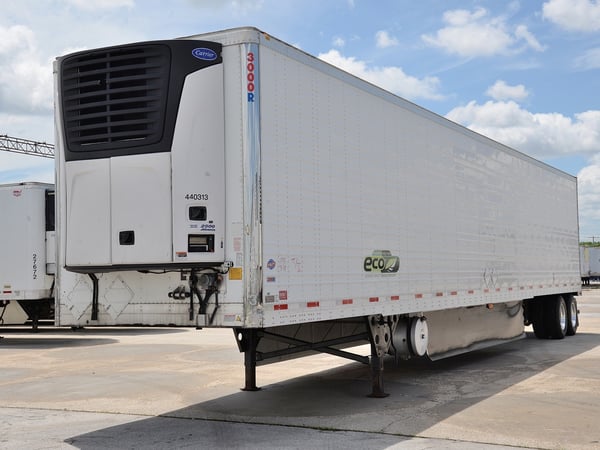 Dry Vans
The most popular option for interstate transport is dry vans, which are also called box trailers. This is due to the ability of box trailers to secure cargo within a safe and weather-proof box-like container. Most of the cargo shipped with these types of trailers are packed in carefully on pallets or in boxes, but some unpacked cargo can also be shipped if it can be secured in the box trailer.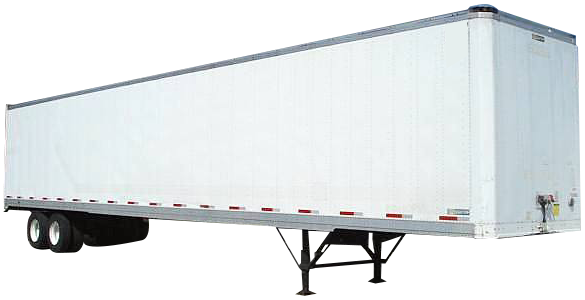 Nowadays, most loading docks are built to accommodate this style of trailer because of the popularity of box shipping. This makes loading and unloading at most loading docks most efficient. Non-traditional deliveries (utilizing liftgates instead of dock doors to load/unload shipments) may cause problems because most box trailers only load at the rear. For this reason, the transportation of boxed dry goods and manufactured consumer products, such as appliances, furniture, clothing, etc. is usually completed using box trailers.
Other Types of Transportation Equipment
If your cargo is not able to meet any of the requirements listed above, here are some other options to consider when choosing the best mode of transport for your cargo.
Conestoga Trailers
Conestoga trailers give protection to the freight it is hauling by utilizing a rolling tarp system that is used to cover and uncover the trailer. The benefit of a conestoga trailer is that the tarp can be rolled back to allow side loading or unloading of freight.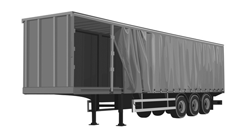 Step Deck (Stepdeck) Trailers
Stepdeck Trailers, or drop decks, consist of a bottom and top deck that is a variation of the flatbed trailer design. Often because of height restrictions, these types of trailers are specifically designed and used to transport freight that cannot be transported on a typical flatbed trailer. Step decks can be open or they can also be enclosed in a dry van or conestoga trailer.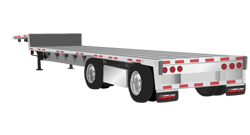 RGN (Removable Gooseneck) Trailers
RGN or Removable Gooseneck Trailers are excellent for carrying tall or long freight. An RGN trailer can be dropped on the ground by use of the detachable front in order to create a ramp for easier loading/unloading. It is capable of carrying freight weighing up to 150,000 pounds. It can go from 3 axles up to 20 plus axles for heavier shipments. RGN Trailers are more specialized so they are also generally more expensive.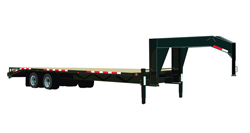 Lowboy Trailer
A Lowboy Trailer is commonly used to haul freight. These kinds of trailers generally designed to carry and transport taller items. This means that the items to be carried by a Lowboy Trailer are taller than the legal height of items that are commonly carried by flatbeds. The types of trailers are also good for hosteling freight between loading docks or within a freight yard.
No matter what you plan to ship or where you need to ship it, the experts at Verst Logistics are always available to answer any of your transportation questions. Verst Logistics can take care of all your domestic shipping needs. Call Verst Logistics today at (800)582-6706 or contact us below to discuss the different types of freight equipment available and get your shipment where it needs to be safely, quickly, and successfully.