Regular maintenance is required to keep all equipment, machines and the work environment safe and reliable at all times in the warehouse. Dangerous situations, accidents and health problems can occur as a result of not conducting proper maintenance checks.
With maintenance, some hazards in the warehouse are formed as a result of the nature of the work since it is a high-risk activity. Maintenance workers are more likely than other employees to be exposed to various hazards.
Click to download the August 2019 Maintenance Safety Calendar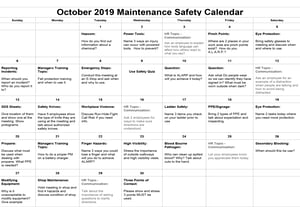 Warehouse maintenance poses specific hazards and risks to those working alongside a running process and in close contact with machinery. During normal operation, automation typically diminishes the likelihood of human error that can lead to accidents. In maintenance activities, contrary to normal operation in a warehouse, direct contact between the worker and machine cannot be reduced substantially and poses a greater risk of human error. This, in turn, increases the accident risk because maintenance is an activity where the workers need to be in close contact with processes.
Warehouse maintenance often involves unusual work, non-routine tasks and it is often performed in exceptional conditions, such as working in confined spaces.
Maintenance in a warehouse involves changing tasks and working environment. This is especially true in case of contract workers. Subcontracting is an aggravating factor in terms of safety and health - numerous accidents and incidents relate to subcontracting maintenance.
Since maintenance safety in warehouses is a big factor in decreasing risks in the workplace, we have created the following safety calendar that will help guide you through daily safety discussions with your employees. Feel free to use this calendar and our other calendars to operate a safer work environment.
Be sure to check out our safety blog for the latest, tips, tricks, and safety lessons below.
October 2019 Maintenance Safety Calendar

Sunday
Monday
Tuesday
Wednesday
Thursday
Friday
Saturday

1

2

3

4

5

Hazcom:

How do you find out information about a chemical?

Power Tools:

Name 3 ways an injury can occur with powered tools. How to prevent?

HR Topic -Communication:

Ask an employee to explain how body language can affect how others react to what you say?

Pinch Points:

Where are 2 places in your work area are pinch points exist? How do you A.L.A.R.P.?

Eye Protection:

Bring safety glasses to meeting and discuss when and where to use.

6

7

8

9

10

11

12

Reporting Incidents:

When should you report an incident? Who do you report it to?

Managers Training Topic:

Fall protection training and when to use it.

Emergency Stops:

Conduct this meeting at an E-Stop and ask when and why to use.

Use Safety Quiz

Question:

What is ALARP and how will you achieve it today?

Question:

Ask what Do people wear so we can identify they have signed in? What must be worn outside when dark?

HR Topic -Communication:

Ask an employee for an example of a distraction when people are talking and how to avoid being distracted.

13

14

15

16

17

18

19

SDS Sheets:

Give location of them and show one at the meeting. Show pictograms.

Safety Knives:

Have 5 employees show the type of knife they are using at the meeting and talk about authorized safety knives.

Workplace Violence:

Discuss Run-Hide-Fight

Call Risk if you need info.

HR Topic -Communication:

Ask 2 employees for ways to make sure directions are understood.

Ladder Safety:

Name 3 items you check on your ladder prior to use.

PPE/Signage:

Bring 2 types of PPE and talk about expectation and inspecting.

Eye Protection:

Name 2 tasks today where you need more protection.

20

21

22

23

24

25

26

Propane:

Discuss what must be used when dealing with propane. What PPE is needed?

Managers Training Topic:

How to do a proper PM on a battery charger.

Finger Hazards:

Name 3 ways you could lose a finger and what will you do to achieve ALARP?

High Visibility:

Stress the importance of outside walkways and high visibility vests.

Blood-Borne Pathogen:

Who can clean up spilled blood? Why? Talk about cuts to the hand.

HR Topic -Communication:

Let your employees know you appreciate them today.

Secondary Blocking:

When should this be use?

27

28

29

30

Modifying Equipment:

Why is it unacceptable to modify equipment? Give example.

Shop Maintenance:

Hold meeting in shop and find 4 hazards and discuss condition of shop.

HR Topic -Communication:

Talk about the importance of asking questions to clarify directions.

Three Points of Contact:

Please show and stress 3 points MUST be used.