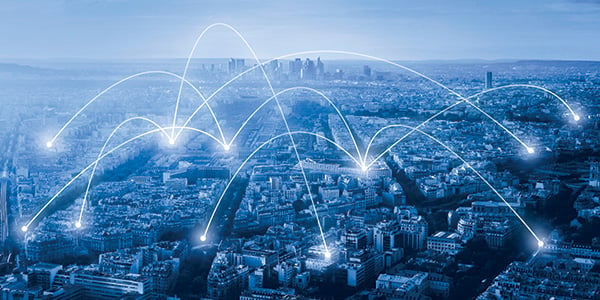 By Brian Gibson, Cliff Defee, Rafay Ishfaq and Beth Davis-Sramek | From the Quarter 4 2018 issue
More and more people—especially young people—are moving into cities. To reach this increasingly important market segment, retailers need to find a profitable and efficient way to do urban fulfillment.
There is no doubt that omnichannel retailing is having a significant impact on how retailers fulfill and deliver customer orders. With 2018 U.S. e-commerce sales projected to eclipse US$526 billion, consumers are increasingly demanding that they be able to place orders through any channel they like and that they be able to receive them when and where they want.
At the same time that retailers are grappling with this revolution, they are facing a key demographic change that is significantly complicating order delivery and fulfillment: the growth in urban population. Following decades of population migration to the suburbs, there is a shift back to urban areas. Between 2010 and 2015, the core cities of the 33 largest metro areas in the United States added 1.52 educated millennials for each one added to their surrounding suburbs.
These urban markets provide fertile prospects for omnichannel retailing. With limited household storage capacity, parking for vehicles, or shopping time, newer city dwellers are prime candidates for rapid omnichannel fulfillment. When these newer customers are coupled with long-time city residents who lack personal transportation and shopping options, retailers have a significant demand growth opportunity.
Fulfilling small volume, high frequency, rapid-velocity omnichannel orders in a highly congested urban setting, however, adds complications to the already challenging task of suburban and rural omnichannel order fulfillment. Rising real estate costs make it impractical to establish high-capacity urban fulfillment centers that can provide efficient access to a wide inventory assortment. Vehicle parking challenges and proposed restrictions on delivery times in urban core areas can limit the ability to support consistent, same-day delivery. And, serving customers in high-rise offices and limited-access residential buildings adds to delivery complexity, time, and cost. So, despite the perceived potential, fulfilling urban omnichannel demand profitably poses quite a challenge.
The additional complications are not deterring omnichannel retailers. Purveyors from Amazon to Walmart are pursuing opportunities created by the intersection of e-commerce and the revival of city living. In the recently published "Eighth Annual State of Retail Supply Chain (SRSC) Report," nearly 60 percent of the research participants said they are active in urban fulfillment. Furthermore, that interest is increasing, with 80 percent of all respondents indicating that urban fulfillment is a growth area for their company. Additionally, the SRSC report found that 78 percent of respondents believe that the value derived from the pursuit of urban fulfillment outweighs the costs. Stating "... urban logistics is the new battleground" in an SRSC interview, a supply chain executive indicated that flawless fulfillment and delivery will be essential for capturing and retaining urban market share.
Winning the battle for city shoppers will not be easy. Retailers must establish networks with the capabilities to fill and deliver product to urban consumers with urgency and efficiency. To do so, they must be fully aware of the unique challenges that come with urban fulfillment and the different alternatives available for fulfilling omnichannel demand. They must have a clear understanding of the advantages and disadvantages of each of these different fulfillment models, and then select the combination of options that best fits their operational needs. Integrating current trends and findings from the SRSC Report, we outline the challenges, requirements, and emerging solutions that retailers face as they address omnichannel for urban markets. (For more information on the SRSC Report, see the sidebar.)
Urban fulfillment challenges
Urban fulfillment is not simple. Retailers in the SRSC survey identified five primary urban fulfillment challenges. (See Figure 1.) While final-mile cost, labor availability, and volume growth are universal omnichannel challenges for all locations, the challenges associated with delivery speed and inventory placement are different for urban fulfillment than they are for suburban or rural areas. That's because these challenges are shaped by the area's infrastructure. In urban areas, smaller store footprints with limited storage space make inventory availability more challenging, while minimal parking, heavy traffic congestion, and growing restriction of delivery vehicle size, stop times, and schedules make it hard to ensure fast delivery. These infrastructure concerns are less of a factor for suburban and rural areas.
Delivery speed. Although two-day delivery has become the de facto standard for e-commerce, customers have increased pressure on retailers to provide next-day and even same-day delivery for omnichannel orders. One SRSC interviewee stated: "We have next-day shipping in play, and we are working toward same-day delivery capability." This pressure is especially intense from urban customers because they tend to hold less "inventory" in their smaller living spaces.
The good news: Faster delivery can be more achievable in urban markets. Thanks to greater population density, urban customers are generally closer to store inventory than suburban and rural customers are to a centralized distribution center (DC) or suburban store location. High customer density in the urban setting also allows retailers to consolidate customer orders to achieve delivery economies of scale and some relief from prohibitive last-mile delivery costs.
The not-so-good news: There are potential problems associated with every possible fulfillment method for omnichannel orders in an urban setting. If customers choose to pick up at the store, customer parking may be extremely limited. If retailers are responsible for final-mile delivery, customers may all want their deliveries during the same time window and traffic congestion may impede timely delivery. Additionally, big orders and bulky products that require larger delivery vehicles can be especially troublesome in an urban setting where parking is limited.
Inventory availability. The growing expectation for rapid delivery of omnichannel orders makes inventory proximity to the consumer a critical success factor. A supply chain executive explained: "Having inventory close to your customers is very critical for a short delivery time." Unlike rural and suburban areas, which can rely on regional fulfillment centers and large stores, urban omnichannel fulfillment runs up against capacity constraints at every turn. There is limited storage capacity for inventory in urban areas. Full-scale distribution centers simply do not exist. To ensure availability and a broad selection, retailers may fill orders from large distribution centers outside of the urban area. This, however, can increase delivery times.
In response, many retailers have chosen to fill orders from their urban stores. This allows for rapid delivery but creates a new set of challenges to conquer. Forecasting demand for both in-store customers and online customers is more complex. Small store formats have little space for inventory storage and processing, increasing the need for more frequent store replenishment to avoid stockouts and the likelihood of congestion inside and outside the store.
Established fulfillment alternatives
To offset these different issues, 89 percent of the SRSC study participants use two or more fulfillment methods to serve city-based shoppers. Of those fulfillment methods, there are two primary types in wide use: 1) fulfillment from stores, and 2) fulfillment from distribution centers. In-store fulfillment includes the options of click-and-collect and deliver-from-store. For store fulfillment, orders are filled using in-store inventory and are either picked up by customers or delivered to a customer-chosen location. Alternately, distribution center fulfillment leverages the staff expertise and operational capabilities of a facility operated by the retailer, product vendor, or logistics service provider. Orders are processed and shipped directly to the customer-chosen location. Each urban fulfillment method offers distinct retailer benefits and challenges. (See Figure 2.)
Among the SRSC Report participants, the store-based fulfillment options are very popular, with a slight preference for the deliver-from-store option. (See Figure 3.) Fulfillment by retailer-operated regional distribution centers is also very popular. Fulfillment from non-retailer distribution centers, however, is not as widely used. Less than half of the retailers surveyed rely on vendors for fulfillment, and only a quarter use logistics service providers' facilities for urban fulfillment.
Store-based fulfillment
Viewed by many supply chain executives as logical extensions of the distribution network, city stores provide the footprint needed for a quick launch of urban fulfillment. Brick-and-mortar stores provide an existing infrastructure that is close to urban customer delivery points, and store inventory can serve demand that originates from any channel. Additionally, the responses to the SRSC survey show that store fulfillment best enables same-day delivery. (See Figure 4.) This is because store-based fulfillment largely avoids the longer distances and potential delays associated with delivery from regional distribution facilities.
These advantages foreshadow a growing role for stores in urban fulfillment, according to multiple SRSC interviewees. Along these lines, a discount retailer supply chain executive revealed: "We think that over the next three years, 80 to 85 percent of our e-commerce will be fulfilled from our stores." Store-based fulfillment is particularly popular among grocery, pharmacy, and apparel retailers.
Store-based fulfillment is not without challenges, however. A key concern is inventory management, as retailers are now relying on a single inventory pool to support both store and e-commerce demand. One executive commented: "You need the right balance of inventory to support both the omnichannel experience and the in-store experience. It takes different thinking about demand forecasting than the way we've viewed it in the past." That is, retailers must engage in a more complex level of demand planning to determine inventory allocation. On top of their store-level forecasting for walk-in customer demand, retailers must accurately predict e-commerce demand by each urban fulfillment methods and then by fulfillment location within each method.
Furthermore, urban stores have limited space for safety stock, and as a result, stockout risks accelerate when a demand spike occurs. To address this issue, many companies have increased their store-order and delivery frequency to enhance product availability and order fill rates. For example, some retailers are switching from a weekly single-store truckload delivery to multi-stop routes (also known as "milk runs") that replenish stores two times or more per week. This also allows the retailers to replenish store inventory with individual units or prepacks rather than full cases to better match demand and manage space constraints.
However, greater replenishment frequency can cause its own challenges, including creating traffic congestion, appropriating limited parking, and disrupting store shoppers. To minimize these issues, retailers are synchronizing store associate schedules with truck receiving schedules to speed the receiving process and the release of delivery vehicles. Replacing pallet or floor-load deliveries with roll-on/roll-off cart deliveries also helps speed up the replenishment process by allowing the store team to move product directly from delivery vehicles to store aisles.
Physical infrastructure limitations can also affect retailers' ability to offer a wide array of stock-keeping units (SKUs) and efficiently process orders in urban stores. To address the SKU challenge, some retailers limit the online product assortment available for immediate urban fulfillment to high-velocity SKUs. Slower moving items must be fulfilled from regional DCs. Others use a hub-and-spoke system, where online orders are routed to hub stores with adequate SKUs and labor to complete orders within a short time window. One executive explained: "We leverage our store network for capacity needs and product availability by spreading the volume."
Another challenge to both the click-and-collect method and the fill-and-deliver method is the negative impact they can have on the in-store shopper experience. The increase in the number of delivery trucks required for more frequent store replenishment can create traffic congestion and take away limited parking from in-store customers. Using in-store inventory for e-commerce orders may reduce on-shelf product availability. Additionally, the increase in store replenishment and picking for multiple e-commerce orders during normal business hours creates aisle congestion. It also diverts store employees from their normal customer service roles.
One solution is to receive truck deliveries and fill customer orders during off-peak or non-operating hours, but that tactic can impede the rapid delivery demands of urban shoppers. Additionally, to fulfill orders with minimal customer disruption in the confined space of small format urban stores, retailers must be creative. The picking processes, packing stations, and staging areas used in distribution centers and large suburban stores cannot simply be replicated. Instead, streamlined methods using scaled-down equipment and fewer shipping box sizes must be deployed.
In addition to the general advantages and disadvantages associated with all store fulfillment models, it's helpful for retailers to understand the unique advantages and disadvantages associated with the two different store fulfillment models—click-and-collect and fill-and-deliver.
Click-and-collect: The click-and-collect option is particularly efficient, eliminating costly last-mile operations and requiring no more than curbside loading. Likewise, retailers avoid the risks of in-transit damage, mis-deliveries, and porch piracy. But as click-and-collect orders increase, retailers risk clogging up their customer service desks or checkout locations handling online orders and negatively affecting the in-store customer experience.
Fill-and-deliver: The fill-and-deliver option provides greater customer convenience. However, for the fill-and-deliver option to work, retailers must pay attention to service reliability. Delivery personnel availability and quality can be inconsistent, especially when a retailer uses on-demand fulfillment services such as Shipt or Instacart. As the volume of orders in urban markets increases, retailers may face another challenge: urban fulfillment capacity. One SRSC executive raised the question, "What happens when online order volume at urban locations starts becoming more than 10 to 15 percent of the store volume?"
Cost is another consideration. A vice president noted: "We're dipping our toe in the water in a lot of different areas with delivery because—given the costs associated with last mile—there's still a lot to be learned."
Finally, the use of stores for order fulfillment places additional responsibility on store associates. Fulfillment of individual orders requires an efficient pick/pack operation that maintains strong productivity, speed, and accuracy. Small details such as improper selection of carton size or delivery provider can result in dimensional weight delivery costs. Retailers must properly cross-train their customer service associates to execute the fulfillment functions of order picking, packing, and shipping.
Distribution center fulfillment
While stores offer a compelling urban fulfillment value proposition, distribution centers also play a vital role. In addition to rapidly replenishing the stores, suitably located distribution centers can handle e-commerce order fulfillment and delivery for urban markets. Retailers can use their own distribution centers or, depending on the order cube, weight, and quantity, their product vendor's or logistics service provider's DCs.
Compared to stores, distribution centers can better support the fulfillment of large-scale orders. This is especially true for home improvement, electronics, and furniture retailers that sell products of widely varying weights, dimensions, and prices. DCs also have access to trained transportation personnel and specialized product handling equipment—resources needed to achieve safe and effective delivery of large appliances, bulk building materials, and furniture.
Distribution centers also allow for inventory pooling, which provides greater product availability and cost control. Rather than dispersing product to multiple locations for fulfillment, it is held in a more central location until demand is known, and then fulfillment and direct delivery takes place. The need to prepare and transfer product to stores is eliminated, which reduces the landed cost of goods, according to advocates of this method.
Distribution center fulfillment is by no means perfect. Many distribution centers are not configured for picking and packing eaches for individual orders, which negatively impacts fulfillment cost and productivity. Longer distances to delivery points impede rapid transit times. For this reason, only 27 percent of the SRSC participants who rely on their own distribution centers for urban fulfillment offer same-day delivery to customers, while none of them receives same-day service from logistics service providers or product vendor facilities. Additionally, urban fulfillment may not be the top priority for distribution centers, decreasing, as a result, the service quality provided to urban shoppers.
In addition to their own distribution centers, some retailers also use an external partner's distribution facilities to handle urban omnichannel fulfillment. This option does decrease the amount of investment that retailers will have to make in their own distribution operations as well as the associated variable costs. For example, it may make sense to use a logistics service provider for specialized "white-glove" delivery services with product installation and packaging disposal.
However, relying on logistics service providers for customer fulfillment causes retailers to lose significant control of the process. This is an ongoing concern. One executive lamented, "Your order-delivery partner has your reputation in its hands. So, if we have problems with that company, customers aren't pointing at that delivery driver, they're pointing at us." As a result, retailers must dedicate managerial resources to engage reliable service providers and monitor delivery processes. A lack of vigilance creates service failure risks.
Emerging solutions
In addition to these more established solutions, retailers are on a continuous quest for innovative omnichannel fulfillment solutions. Three emerging options are "dark store" fulfillment, multi-tenant facilities, and pop-up fulfillment centers. Each solution holds promise for retailers.
Dark stores: More popular in Europe than in the United States, dark stores are retail outlets with no walk-in customer traffic. They execute fulfillment of e-commerce orders and sometimes provide emergency inventory replenishment for local stores. The dark store layout is similar to a traditional grocery store or drugstore, complete with fresh, frozen, and dry food; personal care products; and household goods. However, you will not see price tags, endcap displays, or checkout lanes. Order pickers use multi-bin carts and a tablet computer to navigate the dark store while efficiently filling customer orders. Completed orders are packed for final delivery to customers' homes, lockers, or offices.
On the plus side, dark stores are highly conducive to rapid order fulfillment as there are no regular customers creating aisle congestion. There is also less likelihood of inventory stockouts as there is no competition for product from walk-in customers. And, existing facilities can be repurposed rather than completely shuttered. The U.S. warehouse club store Sam's Club is doing this with some of its stores, for example.
The main challenges of dark stores include the real estate investment and ongoing operating costs. Retailers need consistent order volume to ensure that the facility can be profitable.
Multi-tenant fulfillment: These fulfillment centers allow retailers to access capacity in urban markets that have limited industrial vacancy rates. These shared e-commerce facilities, run by specialized logistics service providers, offer space flexibility, market proximity, and variable cost of operations for retailers. A future opportunity is to create shared inventory pools to support the fulfillment needs of multiple retail tenants.
This strategy is garnering real estate developer investment. One example is a soon-to-open two-story, 840,000-square-foot fulfillment center in New York City's Bronx neighborhood. It will have two levels of loading and unloading docks and the ability to serve multiple retailers. The facility will provide rapid urban fulfillment capabilities with access to 20 million people in metropolitan New York. With no retail tenants currently under contract, it remains to be seen if this strategy will gain traction.
Pop-ups: Pop-up fulfillment centers are a short-term approach to urban fulfillment. These temporary operations are generally located in empty malls or unused warehouses and are used to help retailers maintain service quality during peak and holiday seasons. When the pop-up facility is effectively planned and staffed, it can alleviate the strain placed on primary urban fulfillment operations when order volumes spike. To succeed, pop-up fulfillment centers require: proximity to customers to support next-day delivery options, availability of a flexible and scalable workforce to handle demand spikes, and connectivity to the retailer's warehouse management system. Retailers like Walmart and Urban Outfitters have used pop-ups to fulfill urban orders for their top 1,000 SKUs.
Steps to success
To succeed in omnichannel urban fulfillment, retailers must deploy the right combination of resources and processes. One of the primary drivers of success is establishing fulfillment facility types and locations that align properly with the retailer's order profiles, infrastructure capabilities, and demand patterns. To create this alignment, retailers must first consider product characteristics, typical order size, and service requirements. Next, they must factor in the capacity, current activities, and location of current and potential facilities. The decision should also consider anticipated volume and the distribution of e-commerce orders.
Finally, retailers must take into consideration cost. As one supply chain executive noted, "The urban fulfillment landscape is fraught with peril ... financial peril." Retailers must evaluate the value proposition of their urban-fulfillment offerings against the requisite resource needs and associated expenses. Compared to other online shoppers, urban customers are more willing to pay for delivery of their online orders. This certainly helps to monetize urban fulfillment services, but it also raises the bar on customer expectations of service.
In the end, speed and convenience will be critical to winning over urban e-shoppers. Right now, retailers are relying on their existing supply chain footprint through store fulfillment and distribution centers. However, as urban demand continues to ramp up, successful retailers will be the ones that can build and develop new urban fulfillment capabilities to meet customer requirements—and do it profitably.
See the article here